Camp countdown: The outlook for every Vikings rookie
The Vikings drafted 15 players...how many will have a chance to earn playing time in camp?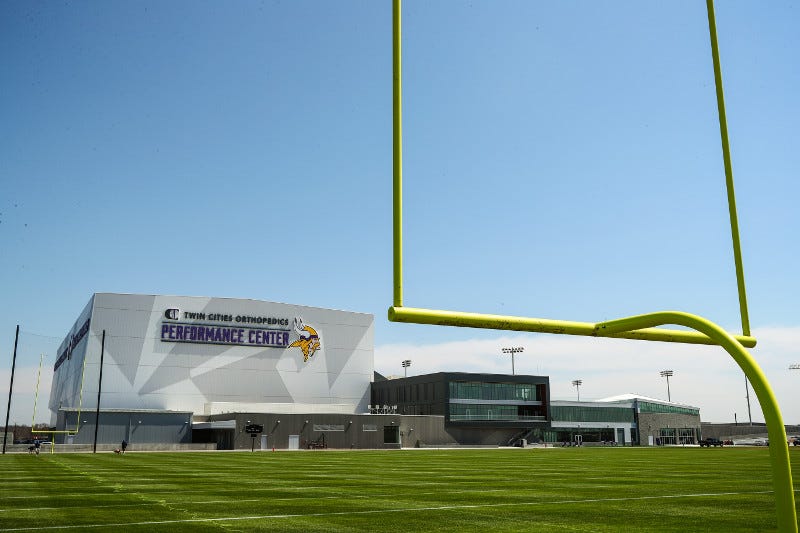 *Photo courtesy of the Minnesota Vikings
---
While things are certainly in flux in the NFL and its players, the Minnesota Vikings set the report date of Thursday the 23rd for rookies to arrive for training camp. So with the help of PFF's Austin Gayle (quotes from the Purple Insider podcast), we take a look at the main competition in camp and best case scenario for each rookie…
Cornerback, Jeff Gladney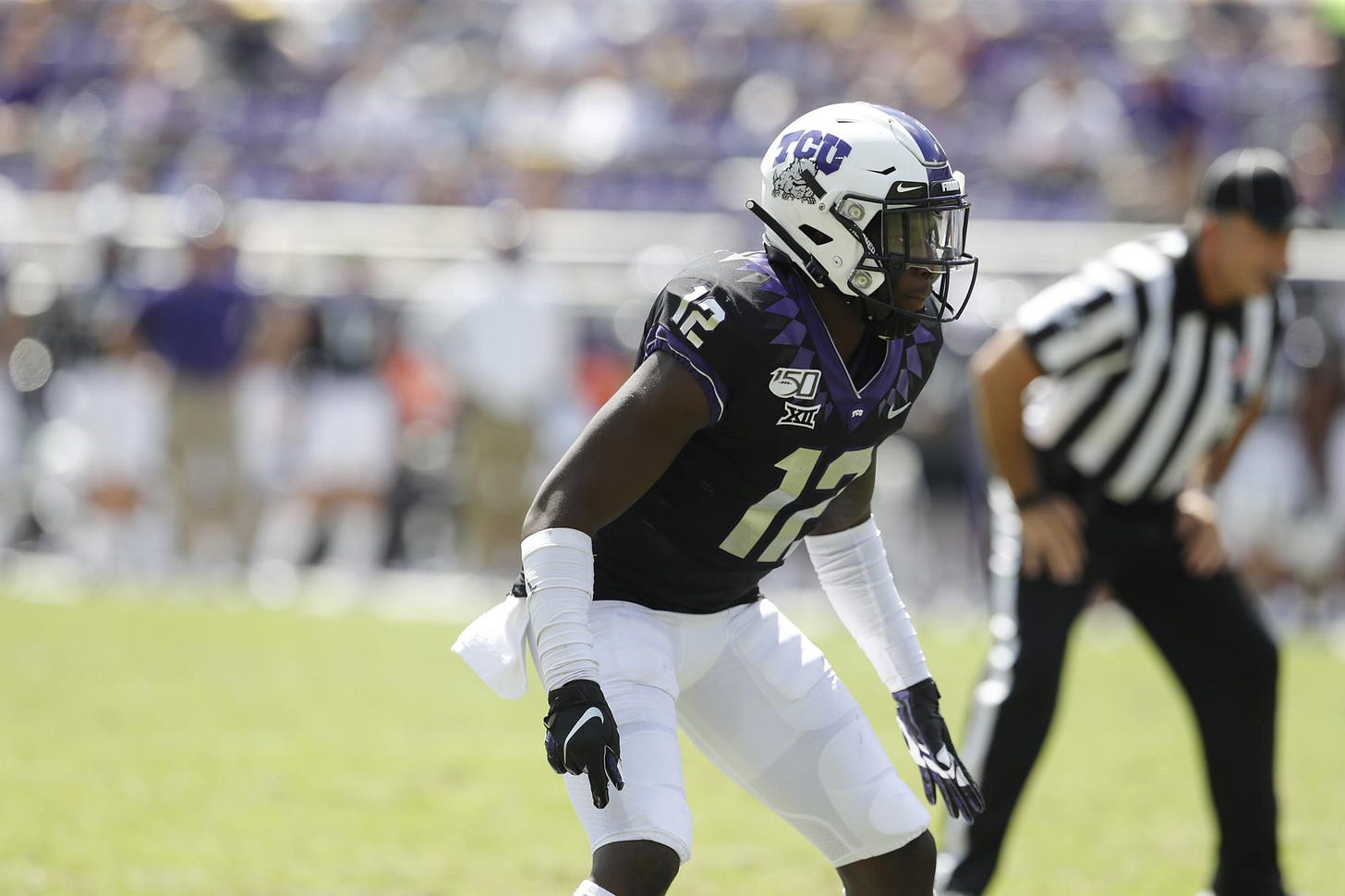 *Photo courtesy TCU athletics
Who he's competing with: Mike Hughes, Holton Hill, Kris Boyd
Best case scenario: Starting outside corner
Despite the lack of a normal offseason and precedent with young corners — no matter their draft status — being worked into the lineup slowly by Mike Zimmer, the Vikings' 22nd overall pick will be given every opportunity to win a starting outside corner position outright.
Austin points out that his college experience at TCU gives him the best shot of any rookie to jump right into the mix.
"I'm not worried about Jeff Gladney," Gayle said. "A big reason I loved him coming out is that he's battle tested. This guy has more coverage snaps and more targets than every cornerback drafted and I think that's going to help with abbreviated offseason."
To be exact, per PFF stats, he was targeted 187 times over the last three years in a pass-happy conference and allowed just 104 receptions (55.6% completion percentage), seven touchdowns and five interceptions.
At 5-foot-10, he profiles to some extent like a nickel corner but playing in the slot usually takes a great deal of experience, leaving Gladney likely to battle for outside jobs more with Holton Hill and special teams ace Kris Boyd than Mike Hughes, who has past work in the nickel.
Hill and Boyd are more experienced but Gladney's pedigree could give him the upper hand on whichever player he's directly competing with. Hill played well in a tiny sample in 2018 and rarely saw the field last season. Boyd only played in Week 17 and had ups and downs against Bears star receiver Allen Robinson.
Wide receiver, Justin Jefferson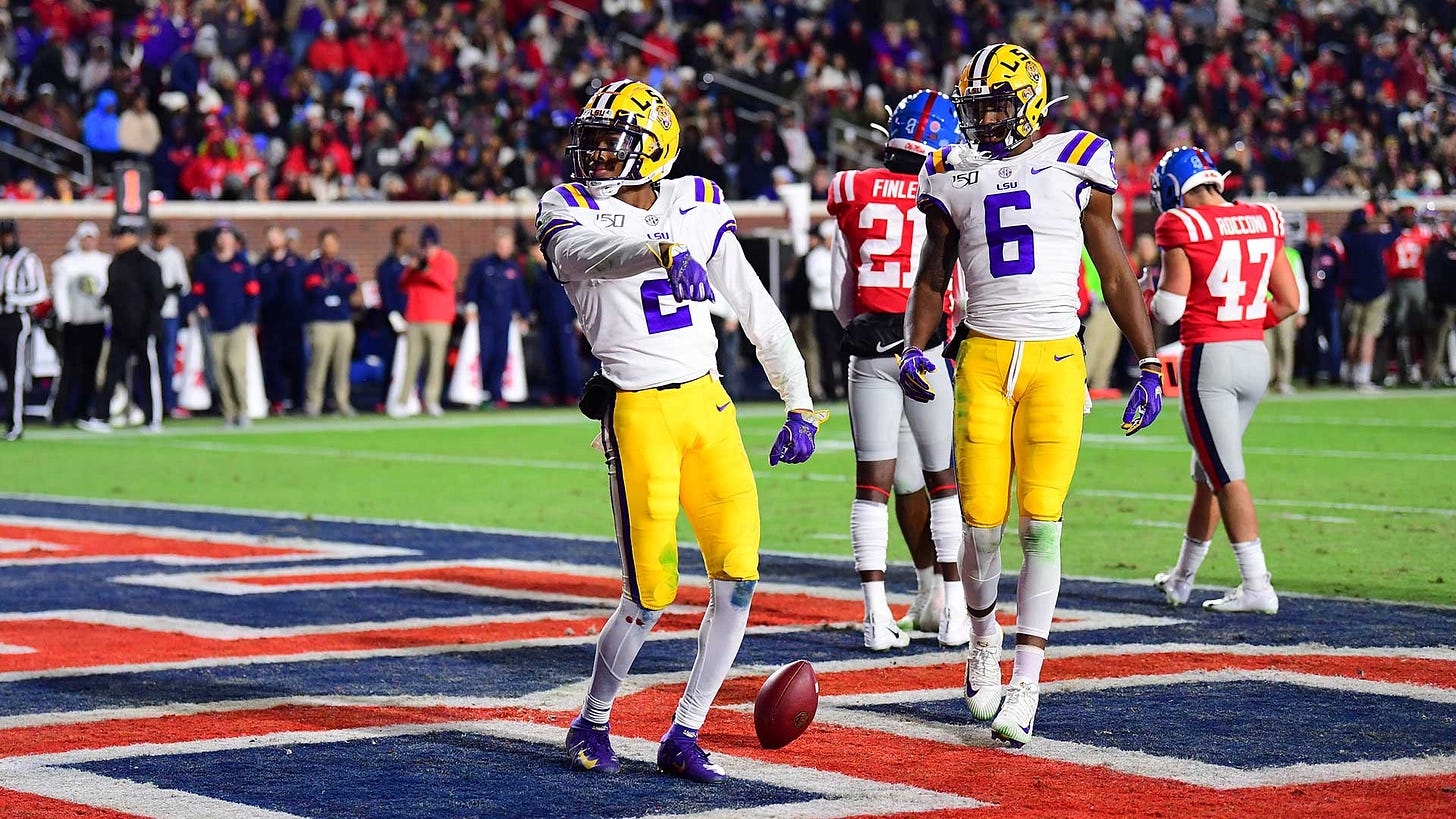 Photo courtesy LSU athletics
Who he's competing with: Bisi Johnson, Chad Beebe, Tajae Sharpe
Best case scenario: Starting No. 2 receiver
Earlier this offseason, Gary Kubiak said that he wanted to play to the strengths of Justin Jefferson, who spent the vast majority of his time in 2019 at LSU playing as a slot receiver. However, the Vikings do not use a pure slot receiver in the same ways that other teams who play three receivers for the majority of snaps. That will require Jefferson to make some quick adjustments if he's going to be used all over the field as receivers like Adam Thielen and Stefon Diggs have been in past years.
One concern for any rookie receiver is whether they can find quick chemistry with Kirk Cousins considering the shortage of offseason time. In past years, rookies would have seen action in OTAs and minicamp (so somewhere around a dozen practices) with their quarterback. Now it appears the ramp-up period will feature less padded practices and no preseason games. That could make things tough for even a very talented young receiver.
"A very good reason why Justin Jefferson was so good at LSU is he really understood the offense and understood how to find open holes in zone coverages and sit where Joe Burrow would find him," Gayle said. "It's not like he was creating a ton of separation on the outside in one-on-one situations…most often for Jefferson it was over the middle of the field, sometimes scramble drills and those types of things. You don't get those on Zoom. Temper expectations."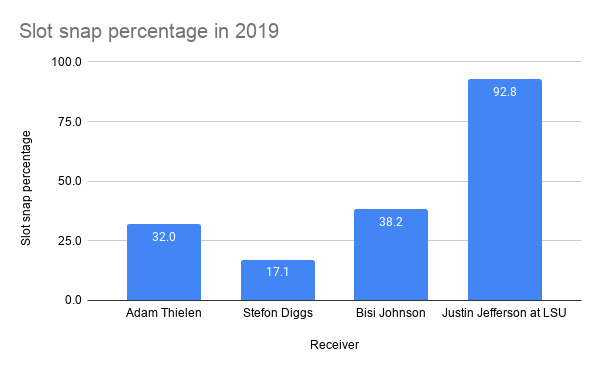 Because his physical talent is far superior to the others, Jefferson is more or less competing with himself. If he can lock in the playbook and master the offense quickly, he'll play far more than Johnson, Beebe or Sharpe. If there's an adjustment period, we could see him only get work when the Vikings use concepts that he is comfortable with.
Tackle, Ezra Cleveland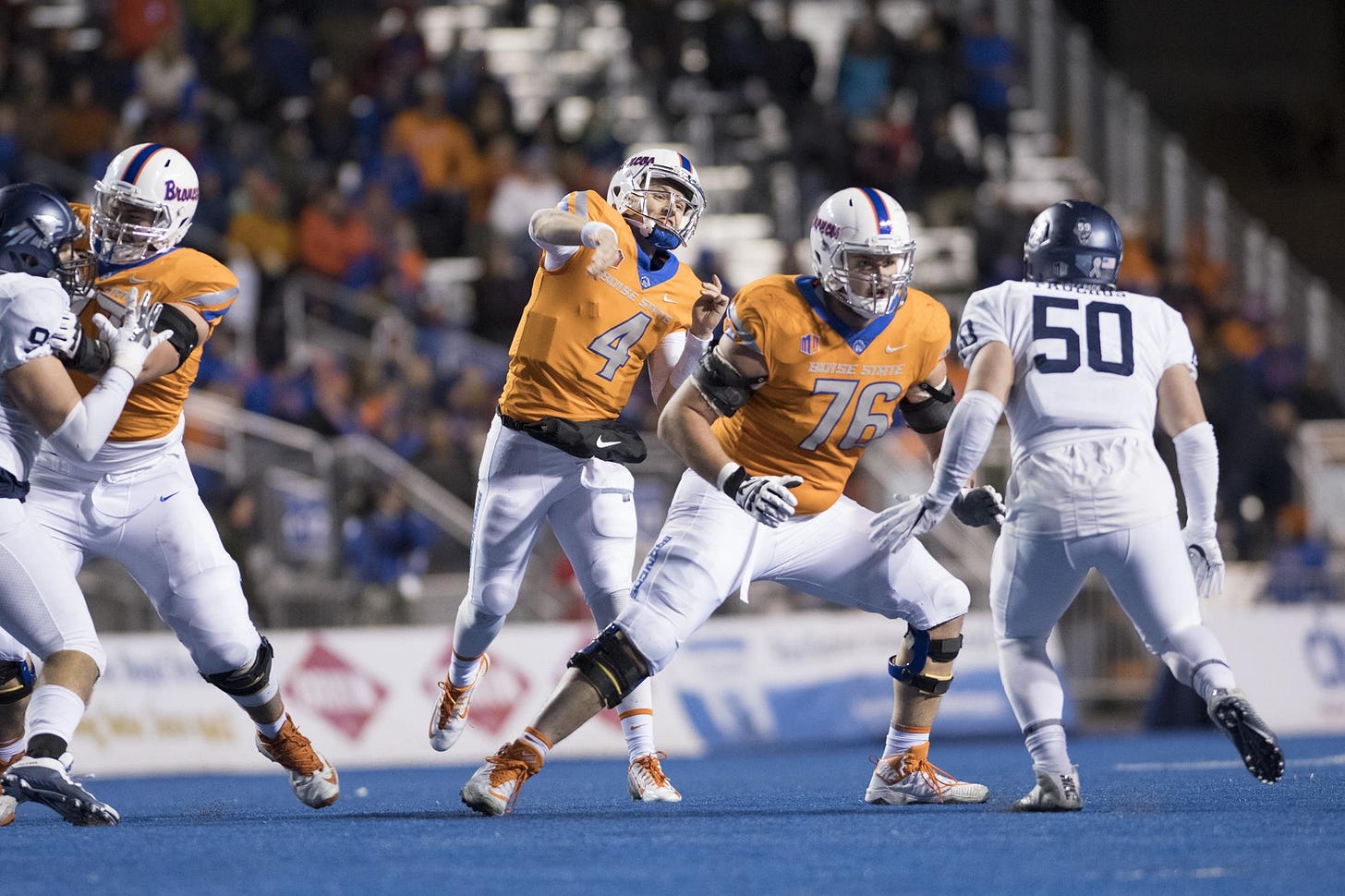 *Photo courtesy Boise State athletics
Who he's competing with: Riley Reiff, Oli Udoh, Rashod Hill, possibly every left guard
Best case scenario: Backup left tackle
Like Gladney, Ezra Cleveland is a very experienced player coming out of college but the level of competition simply comes nowhere close to what he will face in the NFL.
"I would put chances of him starting out of the gate very low," Gayle said. "Even chances of him starting this season, barring injury, also very low. This guy needs time."
Cleveland only allowed five sacks over the last two seasons in over 1,000 pass blocking snaps, in part because of his terrific athleticism. His 10-yard split, 40-yard dash and 20-yard shuttle all ranked in the 90th or higher percentile at the NFL Combine.
Here's a look at the percentiles for all of his Combine scores via Mockdraftable: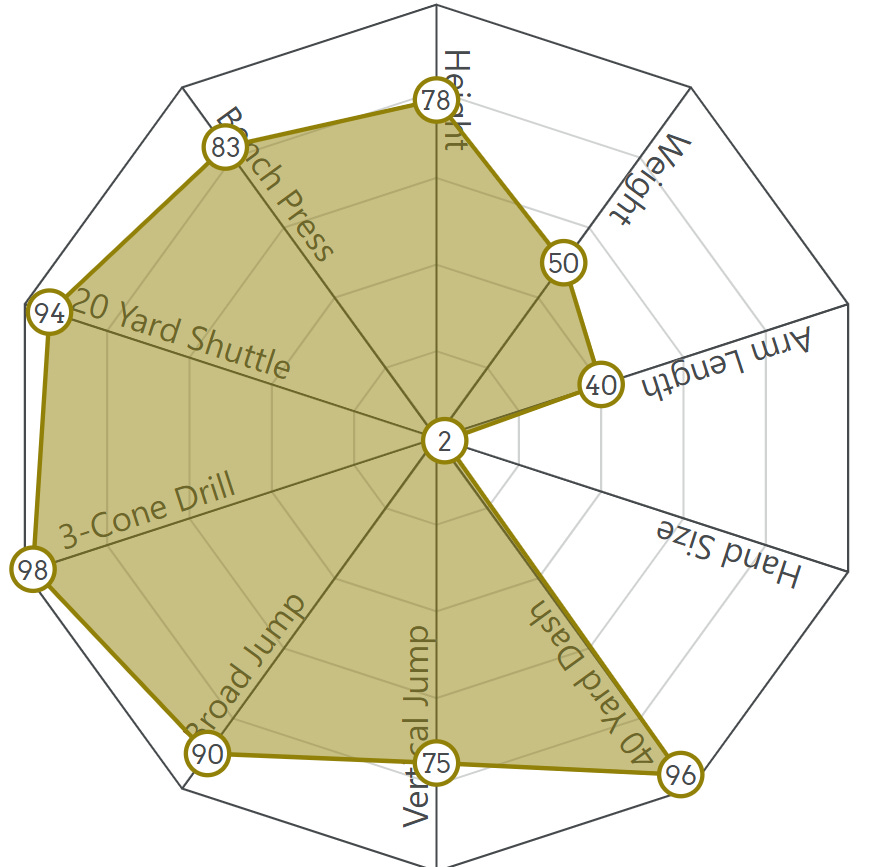 Gayle says that his quickness gives Cleveland a fighting chance if he does have to play right away and a very high ceiling down the road.
"The best feet in the draft…that's why he went as high as he did," Gayle said. "He didn't have elite production at Boise State from a pass blocking perspective but when you have athleticism and feet like he does and guys can't just win with speed and burst off the snap, that gives you a leg up on half the NFL."
As for how he stacks up to his competition, there is an outside chance that Cleveland battles with Riley Reiff for the starting left tackle position or gets an opportunity to show what he can do as a guard but odds are that he's pushing for the backup left tackle spot behind Reiff.
If he does show something as a guard, there could be a debate over whether playing inside would help him as a long-term left tackle option — though Kubiak has said he will play the "best five."
Cornerback, Cam Dantzler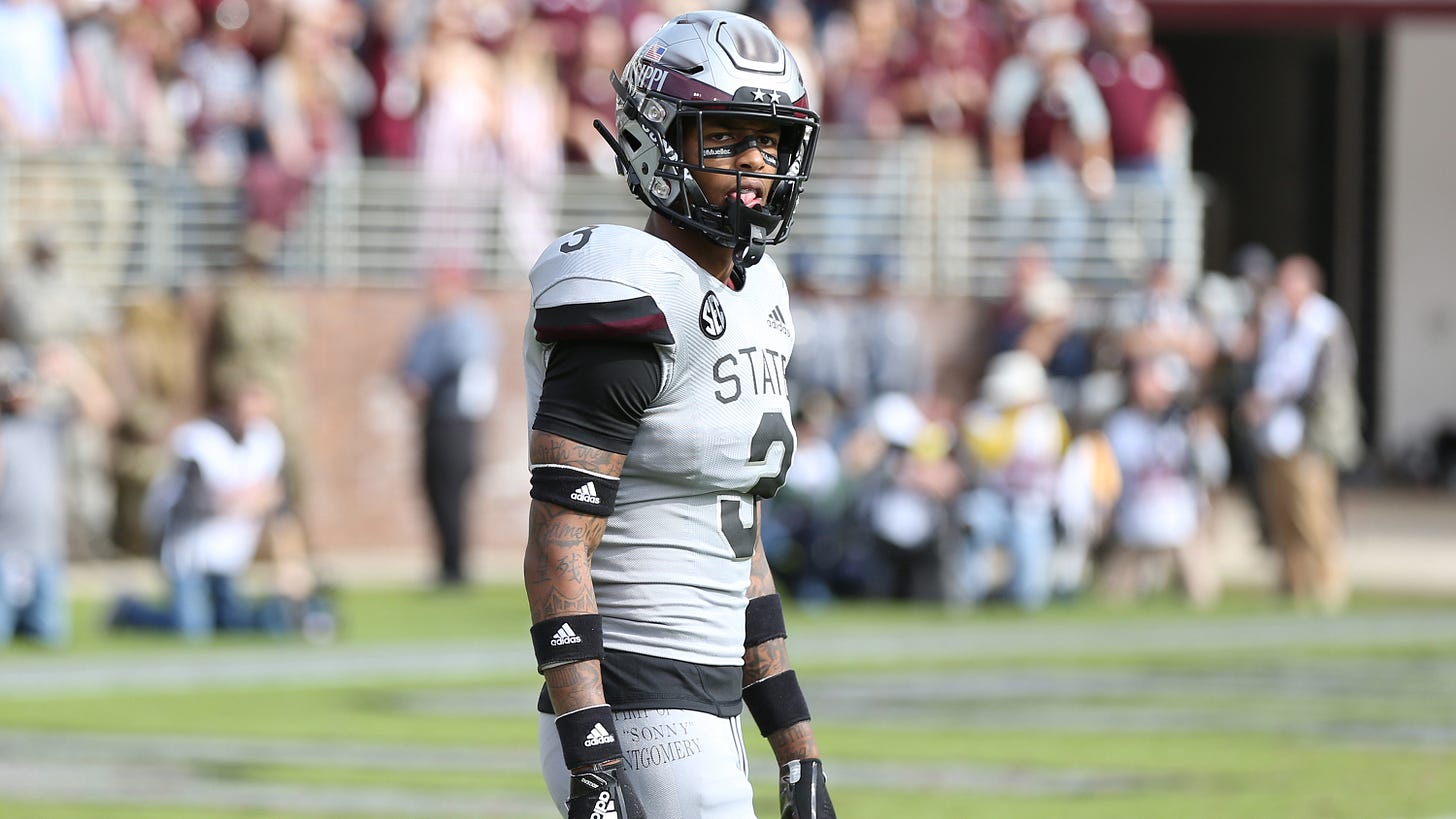 *Photo courtesy Mississippi State athletics
Who he's competing with: Holton Hill, Kris Boyd
Best case scenario: Rotational outside corner
One of the enigmas of the draft, Dantzler had terrific production in college but was unimpressive at the Combine and lacks ideal size. While he played against SEC competition, he was rarely targeted — which is a compliment to his work but the NFL won't be as cautious about targeting him.
"The learning curve is going to be steep because the receivers are going to be bigger than him and have thicker frames," Gayle said. "For a taller cornerback, the dude has shorter arms…that's a concern with me. The experience is a bit of a concern. He didn't see a ton of targets a Mississippi State."
Still Dantzler seems like the perfect Mike Zimmer corner. He's lanky and played against complex offenses in the NCAA's best conference. Gayle says that it will have to be Dantzler's brains that stand out in order for him to get a chance.
"What you did see is that he's a very smart football player. It takes a smart football player to have those negatives from a tools perspective and still limit Ja'Marr Chase the way he did against LSU and still play as well as he did in the SEC," Gayle said. "It's because he understands leverages, because he can do route pattern recognition."
But in a strange offseason, even the smartest players are going to be behind and without the physical tools to make up for that shortcoming, it's hard to see Dantzler passing some of the more experienced corners like Hill and Boyd on the depth chart.
"Will [football IQ] help him when he goes against some of the best receivers in the NFL?" Gayle said. "I don't know because these guys are freakish athletes. You need to be 10 times as smart as Julio Jones if you're going to limit him."
Defensive end, DJ Wonnum
Photo courtesy South Carolina athletics
Who he's competing with: Anthony Zettel, Eddie Yarbrough, Kenny Willekes
Best case scenario: Rotational rusher
Andre Patterson loved DJ Wonnum's length, smarts/personality and potential when he studied him this offseason. Patterson has had a ton of success during the Zimmer era developing players like him with Danielle Hunter becoming a superstar and Stephen Weatherly and Ifeadi Odenigbo both emerging after several years into starting-level players.
This year the door is open for the South Carolina rookie to win a rotational job but he might need much more work than a handful of practices this offseason to hone his craft as a rusher.
"You go back to the Senior Bowl and you didn't see him win as an edge rusher," Gayle said. "In these one-on-one situations you need to be able to beat these guys…those one-on-one situations, there's a reason all 32 teams go [to the Senior Bowl] and draft analysts look at that because you get an opportunity to see how deep into the tool box they're going and what kind of burst they have…that concerns me. However, developing a player like Wonnum…it comes down to the tools."
Whether Wonnum sees the field in 2020 could depend on whether the two veterans Anthony Zettel and Eddie Yarbrough show that they can be viable players to mix in at defensive end on third down to allow Odenigbo to rush over the guard. If they don't stand out, Wonnum might get tossed right into the fire.
Defensive tackle. James Lynch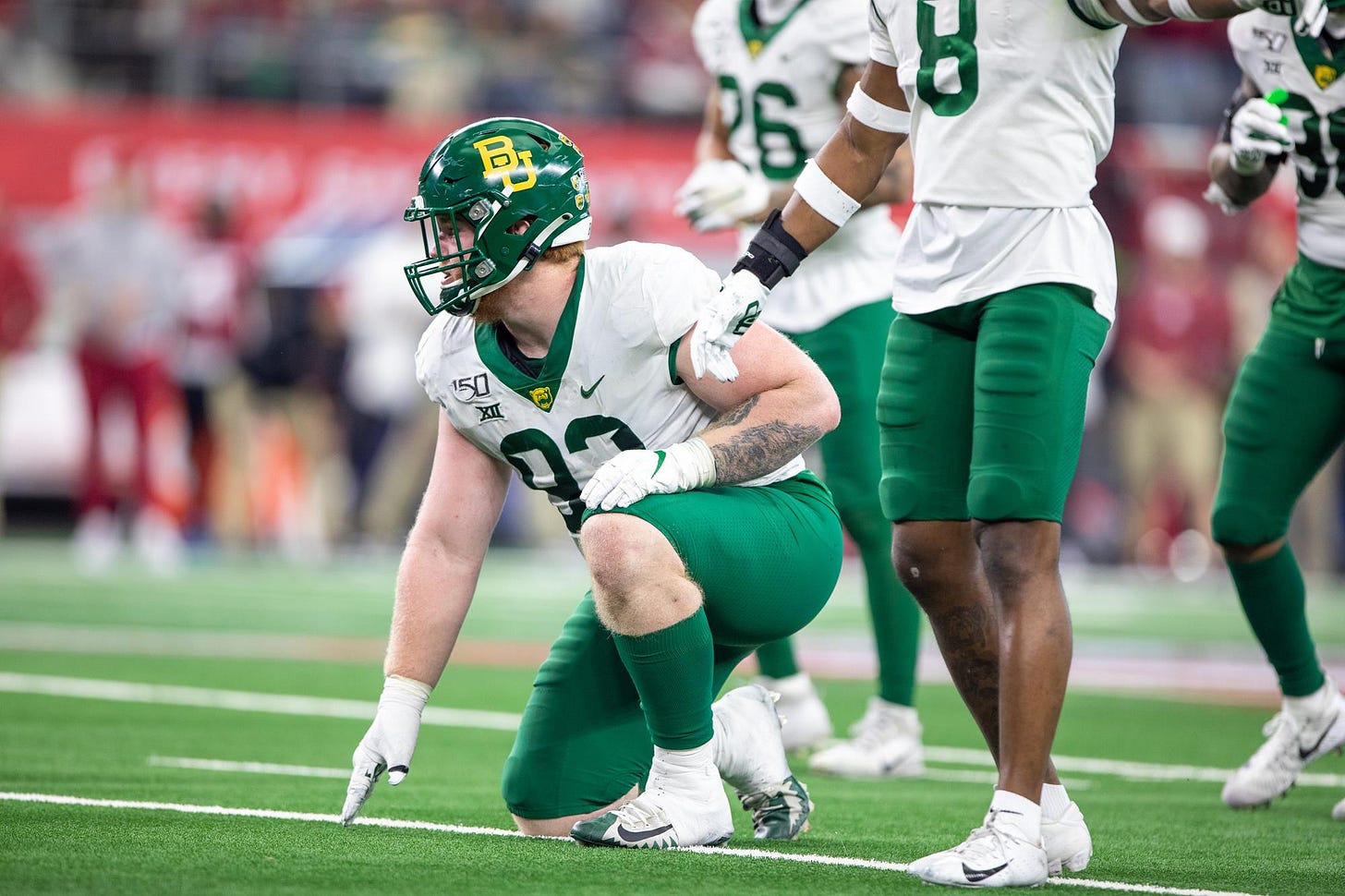 Photo courtesy Baylor athletics
Who he's competing with: Armon Watts, Hercules Mata'afa, Jalyn Holmes
Best case scenario: Rotational rusher
Lynch has the best chance at anyone outside of the first-round picks of landing a job of some type in 2020. He put together monster production in college with 70 QB pressures for Baylor in 2019, per PFF. Lynch also moved around the D-line in college, playing 275 snaps at either a five-technique (directly over the tackle) or three-technique (over the guard) position. That could help for a quick transition into a situational gig.
"If this guy can maintain some of what he did as an edge rusher at Baylor when he gets kicked inside he could be very successful," Gayle said. "Those active hands and active feet on the inside lead to a high volume of bailing out of pockets and keeping [quarterbacks] from stepping up and that has a ton of value."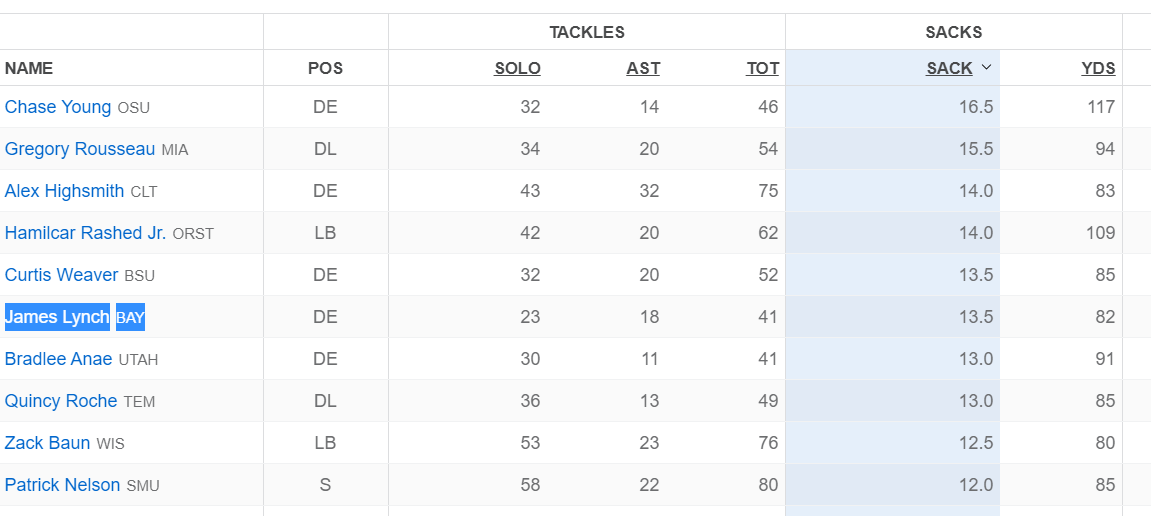 NCAA leaders in sacks. Graphic via ESPN
Armon Watts's growth may ultimately determine where everyone else falls. He quickly emerged as a very intriguing find for the Vikings, dominating Week 17 and making noise other times he got into games. Mata'afa and Holmes both have to take big Year 3 jumps in order to be ahead of Lynch.
Linebacker, Troy Dye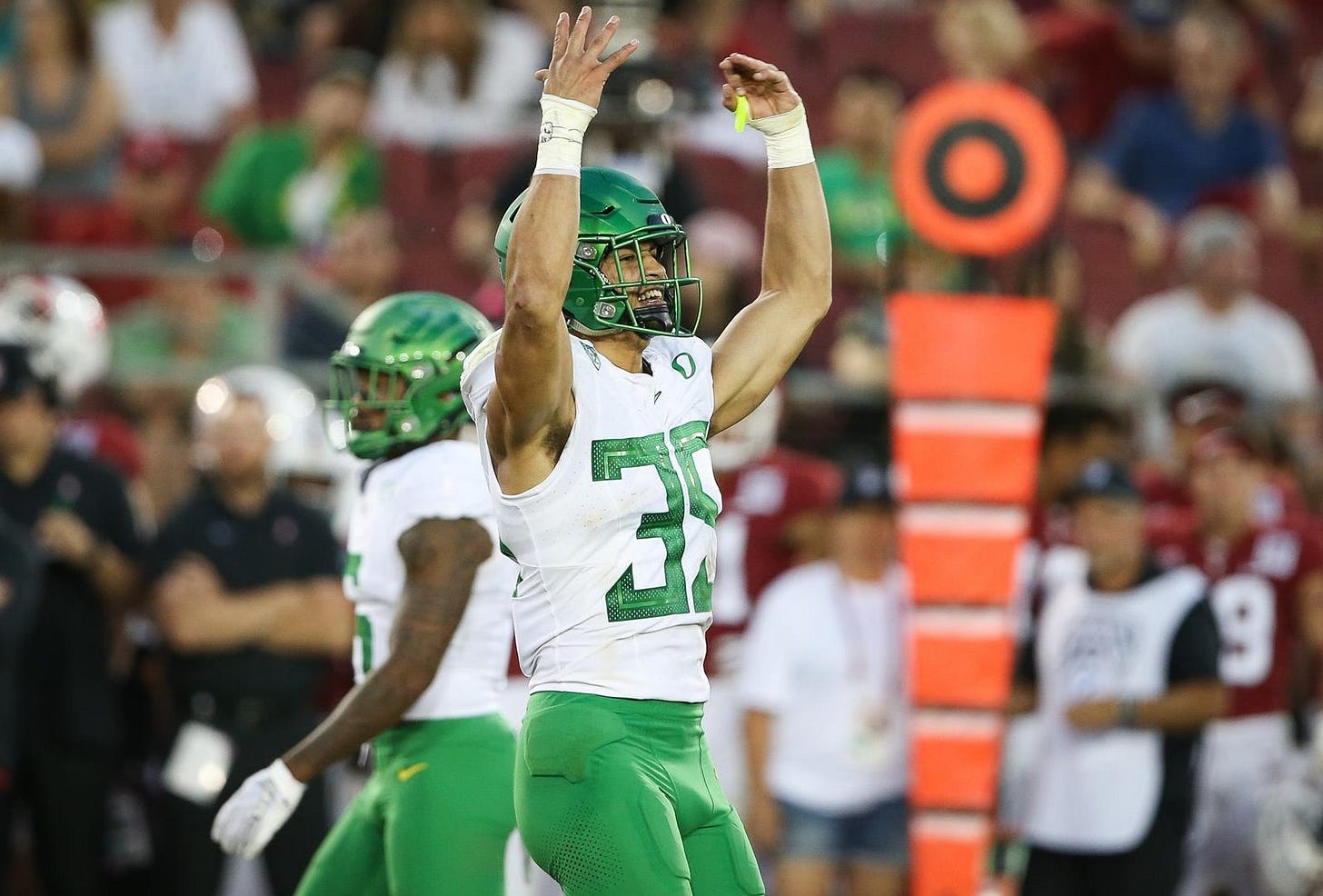 Photo courtesy Oregon athletics
Who he's competing with: Ben Gedeon, Cameron Smith
Best case scenario: Situational player, special teamer
Dye is one of the more intriguing players the Vikings selected on Day 3 of the draft because of his versatility as one of the better cover linebackers in NCAA football. That could point to the Vikings looking for someone to play a hybrid safety/linebacker type role in certain situations — specifically when opponents pass out of multiple tight ends or two running back sets.
The possibility exists that he could play that type of role quickly but Eric Wilson is also capable of quality coverage as a third linebacker. Down the road, Wilson will hit free agency in 2021 and if the Vikings stick with Eric Kendricks and Anthony Barr, they'll need someone to fill that role. For Year 1, he will at very least have a special teams job.
Cornerback, Harrison Hand
Who he's competing with: Nate Meadors, Mark Fields, Marcus Sayles, Nevelle Clark
Best case scenario: Depth corner, special teamer
Now we've reached the point in the draft class where everyone will be fighting for roster spots or otherwise land on the (possibly expanded) practice squad. Hand played for Baylor before transferring to Temple for family reasons so he has the pedigree of a player from a top program. However, with two first-round picks and several experienced players in front of him on the depth chart, his best chance is making a difference on special teams.
The problem with that is that there won't be any preseason games to show off on special teams. Versatility in the secondary could give him an outside shot at making the roster unless he shows up and surprises everyone. On a healthy roster he is a long shot for anything other than the practice squad.
Wide receiver, KJ Osborn
Who he's competing with: Dillon Mitchell, Davion Davis, Alexander Hollins, Quartney Davis, Bralon Addison
Best case scenario: Punt returner, depth receiver
Osborn was a terrific punt returner in college — one of the best in the nation, in fact. There isn't much competition for the Marcus Sherels job this year so it's Osborn's for the taking. If he doesn't thrive in punt return situations in practice, he'll significantly reduce his chances at making the team and likely land on practice squad.
Tackle, Blake Brandel
Who he's competing with: Aviante Collins, Brady Aiello
Best case scenario: Practice squad
This might feel weird considering past years but the Vikings are loaded at tackle. Brandel starts off behind at least five other players who share his position. He did only allow one sack and four QB hurries in 473 pass blocking snaps (per PFF) at Oregon State last year. If he shows anything in camp, they'll stash him away on the PS.
Safety, Josh Metellus
Who he's competing with: Brian Cole, Myles Dorn, any free agent safety
Best case scenario: Backup safety, special teamer
Metellus was used in a lot of different ways by Michigan, which makes him an intriguing early candidate for a hybrid role. There also isn't anyone on the depth chart ahead of him besides Harrison Smith and Anthony Harris at the moment. However, if the Vikings were going to add veteran depth, backup safety might be an area they address, especially if Metellus and Cole show signs of their youth right away.
Defensive end, Kenny Willekes
Who he's competing with: Anthony Zettel, Eddie Yarbrough, DJ Wonnum
Best case scenario: Rotational rusher
Willekes is one of the most commonly named players that draft analysts pegged as a "steal." He was productive at Michigan State and Gayle says he has every bit the chance at a rotational rusher role that Wonnum does.
"Sometimes he can be miscast as a high-motor type, a guy who's all pursuit and those hard-nosed things that guys who don't have elite length and elite athleticism but he's a very good athlete," Gayle said. "Something that does stand out is his bend…he can get low and win the leverage battle consistently. I don't know why he went so low."
Quarterback, Nate Stanley
Who he's competing with: Jake Browning
Best case scenario: Practice squad
This battle is going to be tough to win for Stanley because Browning already knows the offense. Maybe the Vikings will keep four QBs with two on the expanded practice squad.
Safety, Brian Cole
Who he's competing with: Josh Metellus, Myles Dorn, any free agent safety
Best case scenario: Backup safety, special teamer
Cole's size and athletic skills are impressive but he might need much more time than he's going to get this year in order to emerge as a viable option as a role player or hybrid. He will be in the mix for a backup gig.
"His production and film weren't fantastic, he still has a lot of learning to do but when you have raw tools, taking fliers on guys is important," Gayle said.
Guard, Kyle Hinton
Who he's competing with: Anyone who has ever attempted to play guard
Best case scenario: Backup guard
The Washburn guard is hard to peg because he played at a small school but he does have terrific athleticism and a mean streak. It would be very surprising if he got any first-team action in camp with the projected starters having a year in Kubiak's system but he could make the club as a backup.
---
Check out our sponsor SotaStick and their Minnesota-inspired gear by clicking the logo. Use the code PurpleInsider for free shipping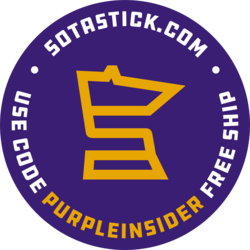 ---