Friday mailbag: Kramer vs. Cousins, 3-4 blitzes and the cap's future
Our weekly run through of Twitter's best questions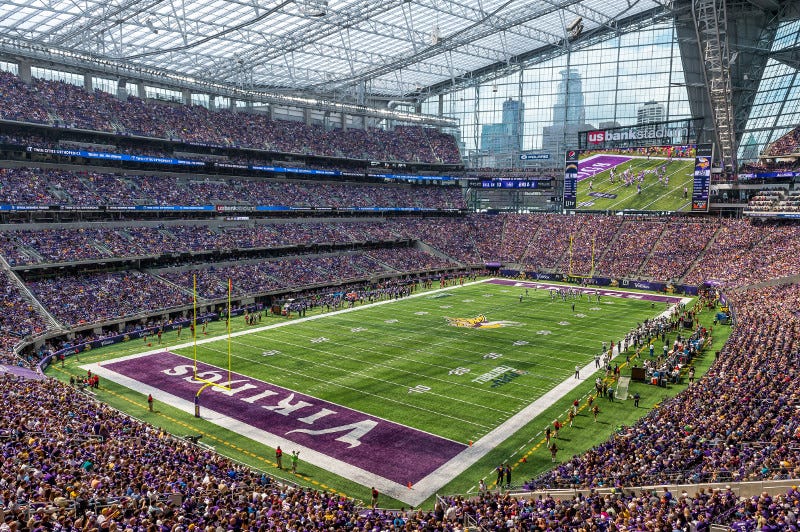 *Photo courtesy of the Minnesota Vikings
If you would like a free 7-day trial to check out Purple Insider, send an email to matthewcoller@gmail.com or DM on Twitter @matthewcoller
---
Happy Friday everyone, let's have a look what Vikings fans have on their minds this week…
@skolmurasaki

: What is Alex Boone up to?
I talked with my old show partner not too long ago and he said that he's still working toward an NFL comeback. Honestly, I think he can do it. COVID has impacted his ability to visit teams and do workouts so maybe as things open up a bit he'll have a chance to prove he can play again.
One thing that's worth saying about Alex Boone is that few players have ever been more different from their public perception than him. I asked Frank Gore to come on the show and he jumped to call in. Sam Bradford and Terence Newman, who never do interviews, called in when Alex asked them. He was all-in on the show. Gave everything he had and that was awesome. One thing I discovered is that he LOVES the X's and O's part of football and coached his kid's flag football team to learn NFL concepts. I wasn't sure what I was getting into at first because he can be intimidating but he became one of my favorite people to work with.
From Mike via email: 1) For my wife and I, our first concrete football memories were watching Tommy Kramer. Can you settle a question for us, is Cousins the reincarnation of Two Minute Tommy? 2) Can you tell us a little about the business model and how it is going? I see more and more internet companies going to this subscription model. In general, I like it because I think it cuts out a lot of clickbait/hot-take garbage.
1) Here's the thing I'll give Tommy: People who watched him loved him. Fans from the 80s adore him. Maybe it's because he had 54 total wins and 19 of them included game-winning drives. As much as I love old games, it's hard to find enough quality broadcasts from Kramer's best days to study and say for sure why how he compares because on paper there's not a lot that would suggest he's as good as Kirk Cousins. He's 136th all-time in QB rating (just ahead of Bubby Brister!). Cousins is one of the top five or six highest rated QBs since becoming a starter in 2015.
The thing they have in common is the fact that they usually win about half their games. From a numbers perspective, Cousins is much better even when you adjust for era. Pro-Football Reference has a stat that shows whether a player was above or below average in each category compared to the rest of the league and Kramer was only a top-half QB in Adjusted Net Yards per Attempt and QB rating three times in his career whereas Cousins is above average in those categories every season since 2015.
Bottom line: Kirk is better (and a lot healthier). Tommy may have been more fun.
2) My hope when I started Purple Insider was that enough people would be kind enough to support me continuing to write my little heart out about the Vikings and the response has been overwhelming. Right now I have about 660 paying subscribers and over 3,000 who signed up for one free article a week. I couldn't have imagined the response.
The business side is pretty simple. Substack hosts the site and takes a small percentage to do so. All I have to do is open up the site and write.
I totally agree with the point that this medium is growing in popularity and severely reduces the feeling of GOTTA GET CLICKS that comes along with ad revenue. My hope here is that we create a little community where everyone feels welcome to ask questions, share ideas and follow the madness that is the Vikings. I know paying for stuff is annoying but there's some pretty cool benefits for readers, the biggest being that you're getting exactly what you wanted. It's like buying your favorite musical artist on iTunes versus listening to the radio for hours hoping to hear a song you like. My guess is that with ad-driven companies suffering, we'll live in an a la carte world in sports media in the future. I can't thank you all enough for, as Ralph Wiggum would say, "choo choo choosing" to read my work.
@OleMart26434417

: If the season is cancelled because of the pandemic, how should they solve the draft order in 2021?
With all the other sports coming back, I'm still feeling very confident we'll have a season. Call it the most wishful of all wishful thinking considering recent rises in some states. But the NFL has shown us time and time again they are going to push forward hard and they'll have time to see how Major League Baseball, WNBA, NBA and NHL handle things before they have to begin.
That said, if the season had to be shut down it might depend on how it happened. If we're eight games in, maybe they go by record after eight games. If it's shut down before it ever started, a lottery would make more sense than just going with the same order. Maybe all the non-playoff teams from 2019 have X number of ping pong balls and the order gets picked out of a hat. That seems like the only fair way to do it. Let's hope we don't find out.
@Ragnarskingdom

: If Vikings were going to make only one more free agent acquisition this offseason... who would you put your money on?
It might feel like I'm going off the board here but I'll say Darqueze Dennard. Former first-round pick who allowed just a 79.6 rating into his coverage last year (per PFF) and has been graded by PFF as an above average cover corner two of the last three years. Where he could have a domino effect is that he played mostly in the slot in Cincinnati. If he were to join the Vikings as a slot corner, Mike Hughes could play outside and Jeff Gladney, Holton Hill, Kris Boyd and Cam Dantzler could fight it out for the other outside spot. You'd know at least one job was solidified.
The really good version of Larry Warford would make the Vikings quite a bit better but recent history on older interior offensive linemen isn't all that promising. Second choice would be a veteran rotational edge like Terrell Suggs or Cameron Wake.
@BIG_dannn

: Vikings extend Harris &Cook and magically can sign one of these options. Which option would take the Vikings to the super bowl? A. Jason peters and Aqib Talib B. Griffen and Mike Person C. Larry Warford and Logan Ryan D. Reckless option.. Antonio Brown and Josh Kline
Great question. I'll go Jason Peters and Aqib Talib because I think they play the most valuable positions here and still can be legitimately very good. Let's say Peters gives you 12 games. You know that 8-10 are going to be way above average and then Ezra Cleveland can pick up the rest if he's ready and Riley Reiff moves inside to guard. It's not easy to switch spots but Reiff is more talented than anyone else we talk about playing guard. He can handle the powerful interior guys better than, say, Pat Elflein. If Talib has even enough to rotate in, that gives them more depth at a position with literally zero veterans.
At D-end, Griffen is a really hard player to replace but I'd like to see what they have in Odenigbo as the starter and Mike Person probably isn't a big upgrade on what they have already.
The Warford-Ryan option is my second pick (and might be the better choice but passing up Peters on this team would be too tough). Ryan strikes me as the perfect prove-it deal guy for the Vikings like Sheldon Richardson was in 2018 and Warford would have a good shot to be a significant upgrade in pass protection.
Antonio Brown was a super fun idea before we knew the full extent of Brown's troubles. Anybody who signs up for his services now is taking a huge risk that he'll play one game and then get suspended again. If Brown's recent history wasn't downright disturbing, I'd pick him in a heartbeat. Thielen/Brown/Jefferson/Smith/Rudolph would be one heck of a group.
@danomn

: How much influence is Dom Capers going to have on the role and use of Anthony Barr?
If you want the TO THE EXTREME football explanation for using multiple fronts on third down pressure packages, my pal Cody Alexander did a cool post on his website that's insanely detailed about it.
Let me give you the short version: When you line up with three down linemen, you can send four-man pressures but the offense doesn't know where the fourth rusher is coming from. You can design rushes with the three up front to create confusion with the offensive line/quarterback that allows free runs at the QB or has a specific game-planned goal in mind.
In the past, Mike Zimmer loved using Barr off rushes from a "Mug" front in the double-A gap blitzes. Mug front is basically putting five guys right at the line but offenses have adjusted to those so he backed off and started going with more zone blitzes in 2018. With Capers, we might see something like this. Picture Barr as the "W."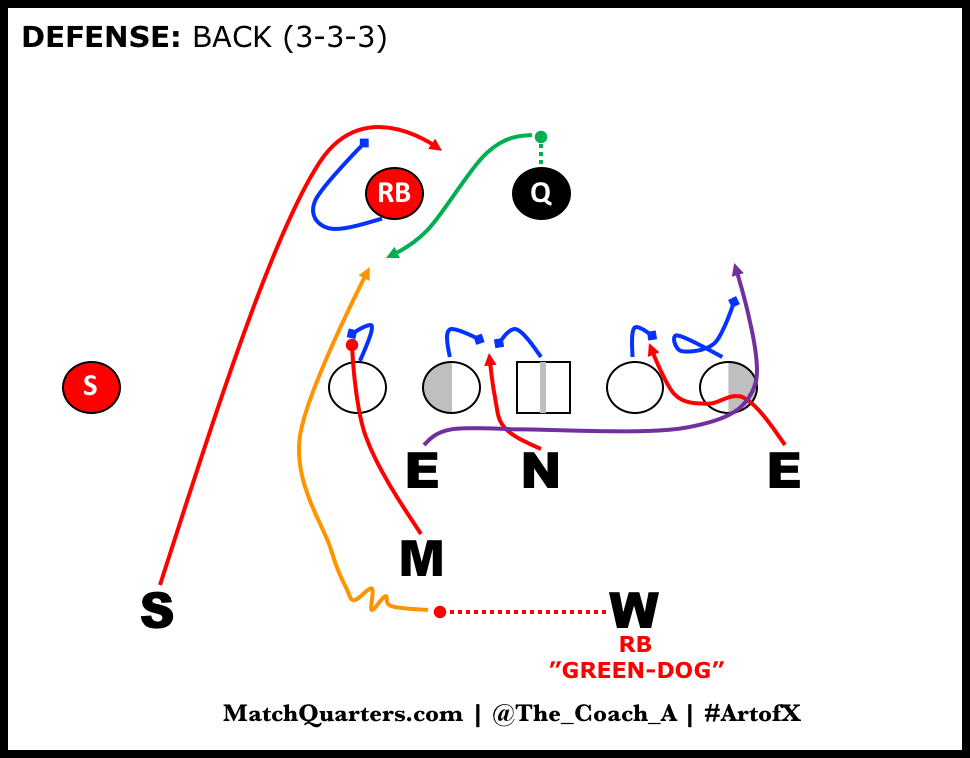 Capers won't fundamentally change Barr. He's going to give Zimmer more ideas of how to get the most out of the times Barr has rushed.
Barr's role has been questioned for years (including by him!) but for an off-ball linebacker he rushes a lot and does it very effectively. He rushed 11th most among LBs who played similar roles and had the sixth most pressures. Barr has such a unique skill set in his present role that it's hard to see him becoming a 3-4 pass rushing OLB all of the sudden. Beating tackles every play is just so different than creating pressure off schemed blitz packages.
@stromer_kevin

Matt due to the circumstances this season what are the odds they keep four quarterbacks
One thing that comes to mind is: If we get to the point where teams are losing two QBs to COVID, the league will shut down. But if the league does indeed expand practice squad rosters, that opens the door to having both Jake Browning and Nate Stanley make the practice squad. They would struggle to get any legit reps in practice but if they like both as guys who could eventually develop into backup QBs, it's always a good idea to keep more quarterbacks.
@benjackson0812

Where do the Vikings rank in your mind in the NFC??
I'd probably answer this with tiers.
The top tier NFC Teams going into 2020 are: San Francisco, New Orleans, Tampa Bay and Dallas (they had a better point differential than the Vikings last year and somehow went 8-8, thanks Jason Garrett).
After that there's a massive tier of teams you could see being very good or meh. Put the Packers, Vikings, I'll be slightly bold and throw the Lions in here along with Arizona, Philly, Seattle, Atlanta (maybe?). None of those teams are decidedly better than the Vikings or way worse.
And under the way worse category is NY, Washington, Carolina and Los Angeles (I think?)
That puts the Vikings anywhere from a division winner to fighting for the No. 7 playoff seed.
@JoelDubiel

: One player the Vikings should trade for And/Or one player the Vikings should trade?
I wrote a column for Bring Me The News about how a Dalvin Cook trade isn't crazy. If he isn't going to sign for a reasonable dollar, find him another home, see what Alex Mattison and Mike Boone can do and add draft capital and cap space for 2021. Aside from him, maybe Riley Reiff? Who knows what Ezra Cleveland and Oli Udoh have in them but it might be nice to start finding out.
Now if things went South, I wonder if the Vikings would consider moving someone like Harrison Smith or Anthony Barr at the trade deadline.
In terms of who to trade for, I'll get a bit deep in the weeds here with DJ Hayden from Jacksonville. His cap number is $7.6 million and he's a free agent after this year. A rental corner makes a lot of sense.
I notice Jaleel Johnson had a cryptic tweet about "DK." Which naturally made some folks online think the Vikings are trading for Desmond King. He had a pretty rough season in 2019 but was elite in coverage per PFF in 2017 and 2018. He'd be a game-changer in the way we talk about the secondary.
There's always the Josh Rosen route. In fact, I'll take any first or second-round pick who's been a bust so far.
@robbQthibault

: Ok which record is broken first- Paul Krause's 81 career INT's or Joe DiMaggio's 56 game hitting streak and why?
In this home run-crazy world, it's really hard to see anyone getting hits in 56 straight games. If Tony Gywnn couldn't do it, nobody can. But in comparison to 81 career interceptions, it seems pretty plausible. When Krause picked off 10 passes in 1975, the league as a whole threw 533 interceptions. Last year, the league threw 410 (and half were by Jameis Winston, am I right?)
In the past people have come close to 56. The current active leader in interceptions has 35. Nobody's ever breaking that.
@KyleBueckert

Of the 3 other NFC North quarterbacks (excluding Kirk) who would you rather have as your starter for the next 5 years?
Tough choice between Rodgers and Stafford but I'll still go Rodgers, then Stafford, then whoever starts for the Bears but I'd pick Jordan Love over either of the Bears' quarterbacks because at least he has a chance to be good someday.
Stafford was outstanding in a very small sample size last year and has some impressive numbers but one thing that kinda bugs me is that nobody ever acts like the Lions missing the playoffs for all these years is his fault. He's 10 games below .500 with zero playoff wins. Is that all coaching and supporting cast? The entire time?
Since 2015 he's 14th in Adjusted Net Yards per Attempt (which factors sacks and interceptions and usually correlates to the best scoring offenses). That's pretty meh. The top guys are Mahomes, Jackson, Wilson, Brees, Jimmy G, Watson, Brady.
That's not to say he isn't good, it's just that past-prime Rodgers still finds ways to win even with a poor group of weapons (Stafford's receiving weapons have often been great during his career).
@sachikojohnson

: Would you support a trade yet for Thuney or do you have confidence we can win with what we have?
The one fear I have with Patriots O-linemen is that Brady makes them all look better with his quick releases. It seems like every time an ex-Pats lineman goes somewhere he's (see: Solder, Nate) they end up being a disappointment. A deal for Thuney would have to include an extremely lucrative extension, which the Vikings would struggle afford even before a likely new deal with Dalvin Cook.
That said, he's probably a very large upgrade even if we drop his play down a tick because of the Brady effect. On a 1-10 scale of confidence in the current O-line, I'd go with a six that they can win with them. They won 10 games last year despite some of the issues and the interior can't be worse than it was in 2019.
@MATPhxc: It seems like Anthony Barr takes a lot of heat. I've read some of the trends that he's regressed and isn't worth his contract yet is one of the top players in terms of pressures. Could AB evolve the same way Clay Matthews did from LB to pass rusher? Maybe Dom Capers will be able to find the same kind of success with Barr that he did with Matthews.
I don't think Barr has regressed yet. His grade by PFF was a bit lower in 2019 than 2018 but linebackers will have variations like that pretty regularly, often times depending on how effectively opposing offensive coordinators attacked them. He's still a few years away from seeing his physical skills diminish.
Barr is likely destined someday for that type of situational rusher role. My guess is that won't be in Minnesota. Think of it like Xavier Rhodes. He could end up playing a few more years as a safety but that was never going to happen here because of his contract. Barr's deal has him clearing $15 million in 2021 and 2022 and over $18 million in 2023. No chance he ever gets to those 2022 and 2023 numbers.
Maybe we could see an affable relationship and switch in role at a decreased price if Barr wants to be a Viking for life but these things usually have feelings involved. Plus he would have to be good at it like B-Rob was late in his career. Matthews was not.
AT King

: Do teams give up on QBs too quickly or not quickly enough?
No matter how obvious it is that every QB would benefit from sitting their first year, teams still throw them into the fire. Maybe long term it hasn't mattered for some but there are a number of quarterbacks in the past who might have had a much better chance at success if they weren't completely out of their depth early on.
If the two most gifted QBs of the last 15 years both sat their first year, then maybe Mitch Trubisky or Josh Rosen should have too.
I think Blake Bortles could be the last of the QBs that a team held onto too long. There are more human beings who are good at quarterback than ever before in history so when one guy proves he can't play there will be opportunity to sign another guy who can. The Vikings lost Teddy to injury and found three other guys who could win with a good setup. The Bucs' first overall pick stunk, so they got the GOAT. Cam Newton is a darn free agent. We're likely to see teams bailing after that first contract like the Bears did in not picking up Trubisky's fifth-year option.
McGraw25

: If the salary cap - as expected goes down - will the Vikings retain most of their draft picks (younger, cheaper) and continue the youth movement next year (10 or more picks) or look to cap-casualty bargains on the open market?
They will hope that the 2019 and 2020 classes become what the 2013-2015 classes once were. Draft, develop, pay. The 2015-17 seasons were spent with a lot of guys who hadn't gotten paid yet like Diggs/Hunter/Kendricks/Barr/Rhodes. And when they proved themselves to be very good, they all got big deals. The dream scenario for the Vikings is that players like Armon Watts, Kris Boyd, Cam Dantzler, Ezra Cleveland etc. end up being home run draft picks and fill starting roles on rookie deals in 2021. Then they can avoid having to spend on free agents and pay them later when the league goes to a 17-game season.
If they don't find hidden gems and Garrett Bradbury and Justin Jefferson don't turn out, the reality is that the Vikings will become the Cincinnati Bengals, who nailed a ton of draft picks in the 2010-2015 range and then went bust on almost every pick after that and fell off the face of the earth.
Still there's going to be some cap flexibility with the Vikings since they can move on from players like Reiff and Kyle Rudolph to make space. I don't think the cap will drastically drop as much as has been suggested.
@PalpatinesRobes

Does Mike Zimmer have to make the playoffs in order to earn an extension? It seems like every year Zim has some crazy unforeseeable event happen, from Peterson to Teddy to Covid-19. It's just Vikings karma
We might end up with a situation where Zimmer just leaves if he doesn't get an extension even if he makes the playoffs. It's very clear that he's frustrated by all the chatter about his job status and the lack of commitment from ownership thus far. I tend to be on the side of defending Zimmer because of exactly what you said: It's been a crazy time and the worst season aside from 2014 has been eight wins. When things are a disaster, it's eight wins. When things fall the right way, it's 13 wins. Most coaches who do that keep their gigs like Mike Tomlin or Andy Reid.
But I've been inside that building when things are going wrong and there was so much tension in '16, '18 and even last year despite making the playoffs. I wonder if that plays into it along with the team continuing to push toward an analytics-based approach.
Still, find a coach who will go five straight years with a top-10 defense. It gives you a shot to be there every year.
---
Check out our sponsor SotaStick and their Minnesota-inspired gear by clicking the logo. Use the code PurpleInsider for free shipping.