Discover more from Purple Insider
Everything you need to know about the Minnesota Vikings
Over 4,000 subscribers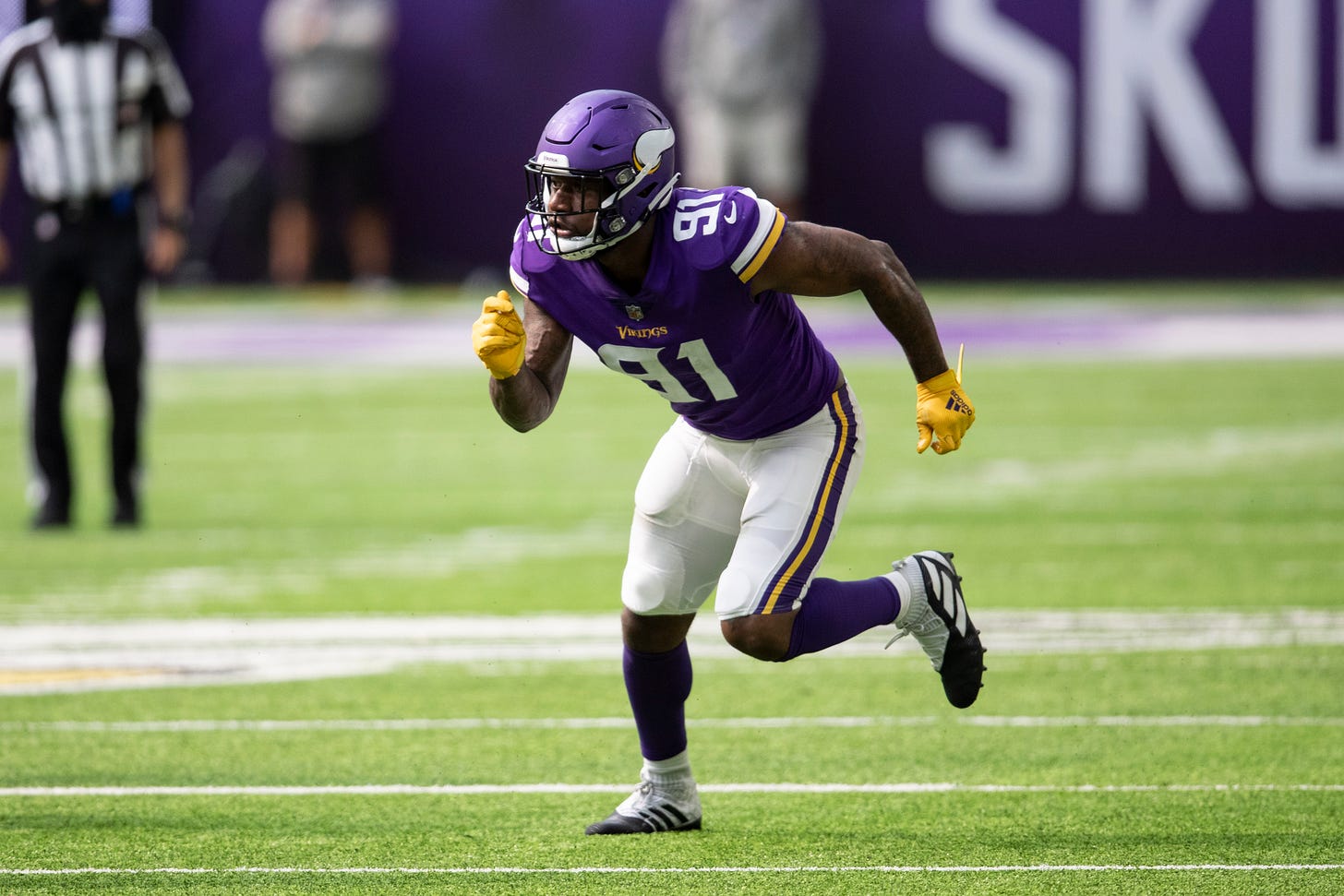 Sign up for Purple Insider for $5.60 per month or $56 per year to get credentialed access inside the Vikings, from in-depth analysis to behind-the-scenes features to the ever-popular Friday Mailbag. Photo courtesy of the Minnesota Vikings
---
We all have a friend who does exactly what the Minnesota Vikings have done over the past three years.
That pal who spends extra on the impractical car that's out of their price range. They don't just re-do the floors in their house, they add an entire new wing. Everyone knows someone who takes everyone out for steak when ordering pizza would have done the trick. They buy their kids brand new hockey skates instead of going to Play It Again Sports.
Since 2017, the Vikings have always paid top dollar for everything. While it's a credit to their ownership, it's not a sign of a savvy shopper. And just like the overly-generous friend, the bill eventually comes and then they have to scramble to pay it.
The Vikings' trade of Yannick Ngakoue to the Baltimore Ravens was the team paying the latest bill to come.
When they acquired for Ngakoue in August, he was sitting out of Jacksonville training camp. He was coming off a season in which he produced a solid eight sacks and PFF graded him as the 25th best defensive end in the NFL.
Now they didn't exactly move heaven and earth to get him like Chicago did when they sent two first-round picks to the Raiders for Khalil Mack but it wasn't a bargain either. The Ravens acquired fellow Jag D-linemen Calais Campbell for a fifth-round pick.
Just six games later, the Vikings clearly decided that Ngakoue wasn't going to be worth signing a long-term mega deal and they moved him to Baltimore for a third-round pick.
They paid the bill with interest in the form of dropping approximately 50 spots in the draft and — as Jason Fitzgerald of OverTheCap wrote — potentially alienating the locker room by forcing Riley Reiff to take a pay cut for a deal that blew up before the clocks changed.
While GM Rick Spielman said on Thursday that the team envisioned Ngakoue being paired with Danielle Hunter — who is on injured reserve and will have season-ending surgery per NFL Network — the trade for Ngakoue was either knee-jerk reaction to his injury or they expected Ngakoue to be better and eventually sign him long term.
If the Ngakoue trade was the only time the Vikings recently overpaid for something that didn't return its value, maybe you shrug your shoulders. Everyone splurges sometimes. But recent history has seen the Vikings pay a premium mark for everyone and it's put them in a difficult cap situation and left plenty of holes to be filled with hopes and dreams of rookies or developing players rising to the occasion (which has rarely happened this year outside of Justin Jefferson).
Everyone believes Dalvin Cook is a top running back in the NFL but a team that was realistic about rebuilding probably trades him before the season rather than signing him to a contract that carries a $12 million cap hit in 2022 and $6 million in dead money if they cut him after that. Cook has been marvelous and the Vikings are 1-5, which speaks to the overall impact of the position.
Rather than going into the season with future flexibility at quarterback, the Vikings signed Kirk Cousins to a massive contract extension that carries a $31 million cap hit next year and $45 million hit in 2022. In fact, Cousins has a higher cap hit in 2020, 2021 and 2022 than Patrick Mahomes. And it's a deal that's very difficult to get out from under if they aren't pleased with the results.
Why did they pay him on the first day of free agency? To sign an expensive nose tackle when nose tackles often come on the cheap.
"Kirk coming off what he did last year, he had his best year in the NFL, and coming back in the same system and us being able to renegotiate and extend that contract gave us some flexibility from a cap standpoint to go out and get a Mike Pierce, to do an extension with a Dalvin Cook and some of the other things we were able to do in the offseason," Spielman said.
In 2018, it was understandable to sign the shiny thing in Cousins. They were coming off an NFC Championship appearance and felt that an upgrade at quarterback was needed to get back. But they paid literally the largest contract in NFL history in guaranteed money to get a QB with zero previous playoff wins. The price was, as we discovered via a Cousins documentary, jacked up by the New York Jets.
Savvy cap management helped the Vikings keep signing expensive things but Cousins's initial $84 million deal forced them to paper over some holes that came back to bite them — a la the No. 3 receiver and guard positions in 2018 and 2019.
Other money was spent on re-signing Anthony Barr to a deal worth $13.5 million per year. Again, a good player but they didn't him on the cheap. Over the last two years, Barr has ranked 24th and 30th of 50 linebackers by PFF. Even if his value to the defense is greater than that as Zimmer often argues, Barr has a $12.7 million cap hit this year and over $15 million next year. It was not exactly a Moneyball decision.
In no particular order — the Vikings could have traded Anthony Harris but instead elected to pay him on the franchise tag, a cost of $11.4 million this year, fifth most in the NFL this year. They gave a contract extension to Kyle Rudolph worth the seventh highest cap number this year. They kept Everson Griffen before 2019 on a deal that carried a $8 million cap hit. More good players at high prices.
Another way to look at the Ngakoue trade is that the bill came last offseason when they saw Griffen, Xavier Rhodes, Trae Waynes, Mackensie Alexander and Linval Joseph exit and Ngakoue was your friend trying one more swipe on a maxed out credit card. They made the move while carrying $21 million in dead cap space.
If we go back through all the moves one by one, there are reasonable justifications for all of them — the same way your friend has good reason to get the big truck that can carry their outdoor gear in the back. But the accumulation of always paying top dollar for everything in a sports world that is focusing heavily on efficiency has put the Vikings in a position to take a big hit when one of their big buys doesn't pan out.
One of the issues in terms of team building philosophy is that things like defense and offensive line play are more about the holes than they are the shiny toys. You are only as good as your weakest link and when you can't afford to renovate the weak links, the holes cause the entire thing to fall apart.
And when you miss on the players considered the "one last piece to the puzzle," you end up at the bottom of the division, looking up.
The coincidence here is that the Vikings didn't build the NFC Championship team this way. When Zimmer arrived, they built it on the back of draft picks and found a handful of really good small-time buys on the free agent market like Linval Joseph, Captain Munnerlyn and Terence Newman. They had some really nice bargain-bin finds like Nick Easton in a trade with San Francisco, Joe Berger in free agency, even reasonably-priced right tackle Mike Remmers was solid in 2017. The plan at quarterback was initially Teddy Bridgewater on a rookie deal.
Now that they have acknowledged with the Ngakoue trade (though they have not said it out loud) that rebuilding in some capacity needs to happen, the Vikings have an opportunity to shop wisely in the future. The question is whether the current administration will get the chance to make the shopping list again after maxing out the credit cards with little to show for it.
---
Check out our sponsor SotaStick and their Minnesota-inspired gear by clicking the logo. Use the code PurpleInsider for free shipping