PI Feature: Rashod Hill's day will come
Vikings' swing tackle has been working for his chance and it nearly came. Now he must wait for another opportunity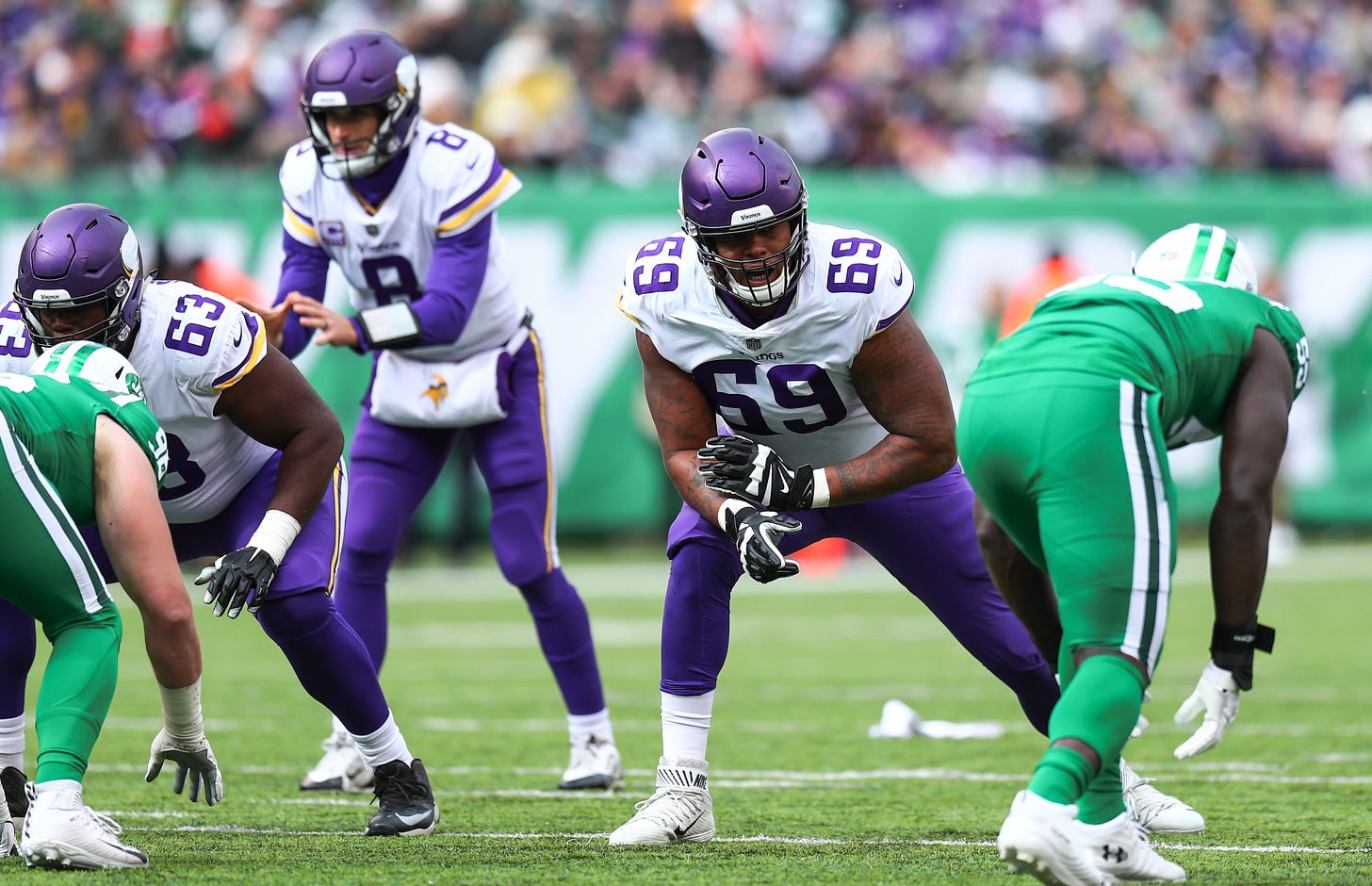 Sign up for Purple Insider for $5.60 per month or $56 per year to get credentialed access inside the Vikings, from in-depth analysis to behind-the-scenes features to the ever-popular Friday Mailbag.
---
You can pretty much put every story about NFL players into three categories: 1)Player reached his dream 2) player is on the way to reaching his dream 3) player didn't reach his dream.
But Minnesota Vikings tackle Rashod Hill is somewhere in the middle of all that. Call it dream purgatory at the moment.
Rashod has reached a level he never imagined. He has a consistent NFL job. He is providing for his wife and daughter in a way he wouldn't have predicted a few years ago. At the same time, he was also close earlier this offseason grabbing something he's been chasing for four years. And now he's forced to wait longer. All he can do is keep believing that his day will come.
August 31, 2020
When the Vikings traded for defensive end Yannick Ngakoue, they needed to create cap space.
Without many movable contracts, their options were to either cut starting left tackle Riley Reiff, trade Reiff or restructure Reiff's contract. Behind the scenes, Reiff told his teammates he believed his time in Minnesota was up. Reiff's agent sought a trade during following the Ngakoue deal.
This was the chance Hill had been looking for. The one he briefly got in 2018 but let slip away. Sources told Purple Insider that Hill was earmarked to take over if Reiff was cut and the Vikings essentially confirmed it with their comments that day.
"Rashod has improved an awful lot since he's been here," head coach Mike Zimmer said on August 31 as the team waited for news on whether Reiff would restructure. "I think his record is [10-5-1] as a starting player, so we have a lot of confidence in Rashod. He's a big, strong guy that does a nice job in pass protection."
But the next day, Reiff's agent failed to find a trade partner and the veteran starter agreed to a pay cut that would keep him in Minnesota.
That meant for the fourth year in a row, Hill would serve as a backup.
Four weeks into the season, Hill has seen only a handful of snaps as the sixth lineman. He remains the best Break Glass In Case Of Emergency tackle in the NFL. Since arriving in Minnesota he's been like a fire extinguisher: he's part of the background until something's burning.
But Hill has spent the last two years of his life doing everything he can to be more than that.
"No sugar coating that"
There have been times over the last four seasons in which Hill has shown that he's capable of being more than a fire extinguisher. Last year the Vikings lost Reiff early in a key game against the Eagles. Hill stepped in against a strong Eagles defensive line and allowed zero pressures.
He has actually been part of some of the biggest moments for the Vikings in the Zimmer era, even if you didn't notice he was there. Hill started a key win over Detroit on Thanksgiving Day in 2017 and the Minneapolis Miracle divisional win over the New Orleans Saints, battling superstar defensive end Cameron Jordan for a full 60 minutes that day.
But when the Vikings gave Hill a starting job in 2018, it didn't last all that long. They quickly turned the job over to second-round pick Brian O'Neill, who has turned into one of the better right tackles in the NFL.
"That made me so upset with myself because I didn't do the stuff that I was supposed to do as a professional player," Hill said over the phone from the practice field at TCO Performance Center.
That offseason he and his agent had a long talk.
"He said, 'Shod, I want you to have a great career I'm just pissed off that you can do so much more but you're just lazy, you're just being lazy, that's the honest truth,'" Hill said. "No sugar coating that."
Hill knew his agent was right.
Meadows
At Southern Miss, Rashod was known as "The Big Man." When he spoke, everyone else listened. He earned that. But that wasn't always the case. When he first saw playing time, his feet were uncoordinated and he wasn't all that confident. He didn't watch extra film and he sure as heck wasn't outspoken.
His turn in an NFL direction came in 2015 when Southern Miss brought in offensive line coach Luke Meadows.
"He always wanted people to realize there was a bigger picture than just football," Hill's So. Miss teammate Randal Agee said. "We're doing this for a reason. Not only are you doing it to win a game but you're doing it for the person beside you. If each one of us are successful than the whole team will succeed, basically. I think Rashod took that to heart."
Previous O-line coaches seemed afraid to hold Rashod accountable for mistakes. Maybe it was because he was easily the team's most dominant athlete or maybe it was because Hill is just enormous and naturally intimidating, even if his actual personality isn't nearly as daunting as his height/weight/wingspan would suggest.
"With Meadows, if say Rashod got beat by a guy, Meadows would circle it, put arrows around it and let him know that you can't put that stuff on film," former So. Miss left guard Brandon Farmer said. "If you put this on film, you're screwing with my family, you're screwing with Brandon's family. People take that to heart. He probably still has that mentality to every day life."
Meadows put things in terms that stuck with Hill.
"Meadows was the first coach to sit down and have that conversation with him because I would remember Meadows pointing things out in meetings like, 'Rashod when you're out here and you take this step and this step isn't right, you're messing up an opportunity on film for a scout to see you,'" Agee said. "You're messing up that opportunity to get that check to pay for your baby girl. Really breaking it down like that. From that time on you started to see him grow exponentially."
Meadows, currently an assistant offensive line coach at Kansas, was not made available for comment.
One night Agee discovered Hill in the film room, only to find out he'd been in there every night studying his craft. He started leaning on his left guard Farmer for feedback on his game and how he could be better.
Suddenly Hill's confidence was up. He became the guy that would gather the linemen to go out to dinner when the team hit bumps in the road. He would finish teammates' movie quotes, seeming to know every film ever made.
By the time he was in his final year at So. Miss, Hill was downright influential.
"I know for a fact that led to me wanting to do the same thing he was doing and led to the rest of the offensive line doing that as well," Farmer said.
"I was very upset to see him leave but I'm super excited and proud to say I was able to serve on the offensive line beside him when I'm watching his NFL games now," Farmer added.
Both teammates have been keeping an eye on The Big Man's progress. Agee is a high school coach now after winning a championship on Mississippi Gulf Coast's staff as a running back's coach. His coaching eyes see Rashod learning how to play to his strengths in the NFL.
"I watched him against the Saints and they had a guy rush outside and cut in and I'm like, 'Yeah that's the same thing he did in college,' but there are other times I see him get his hands on somebody and it's over with," Agee said. "He's really good at what he's good at. He's aware when he needs help. When you know what you're not good at, you can ask your guard for help."
Big Duke
Back in 2016, after Hill went undrafted and joined Jacksonville's practice squad, he could not have fathomed that he would ever solidify himself in any role in the NFL.
While he took Meadows's pro mindset seriously in college, accomplishing his pro goals seemed pretty far off in the distance as an undrafted player who wasn't on the active roster of a bad Jaguars team.
"When I was coming out [of college] I was like a chicken with its head cut off," Hill said. "When I left Jacksonville I didn't know anything. I met [offensive line coach] Tony Sparano, rest in peace to him, he put it into me the stuff that I know now."
The Vikings signed Hill because he had long arms and they were desperate. In 2016, they lost starters Matt Kalil and Andre Smith to season-ending injuries within the first two weeks. They signed veteran Jake Long but he got hurt too. So they added Rashod, who didn't own a winter coat at the time.
In Week 17, the Vikings played a meaningless game against the Bears and Hill got his chance to see some playing time. In 27 pass blocking snaps, he allowed zero pressures and earned a 79.1 PFF grade. Tony Sparano believed he could be a good player and GM Rick Spielman expressed that he was impressed with the performance.
Working closely with Sparano, Hill became the fire extinguisher in 2017 as the Vikings were making their way to an NFC North title. Hill played in nine games and registered PFF grades above 80 in six of them. In five of those games he gave up either zero or one QB pressure.
But in 2018 more consistent work resulted in Hill's weaknesses being exposed. PFF graded him 59th of 85 in run blocking. That played a role in the Vikings turning things over to their second-round pick Brian O'Neill.
It became clear that Hill needed to do more if he ever wanted to become a full-time starter. That's when he decided to go all-in with Big Duke.
Duke Manyweather has become a household name in offensive line circles. He's become the trainer to the O-line stars like New Orleans's Terron Armstead and Philadelphia's Lane Johnson. Manyweather holds a yearly O-line conference called OLMasterminds each year in which players from around the NFL join together in Texas to watch tape and talk about their craft.
"When I first got him he came out here to train an it was really cool because you saw the potential there and intriguing physical traits," Manyweather said. "It was like a ball of clay where I had to find how to help him realize his potential."
Hill bought a house in Texas so he could put his entire focus into training with Duke. They laid out a plan that started from the ground up. Improving Hill's footwork started with increasing flexibility in his ankles and building lower body strength to make his movements more efficient and powerful and increase lateral agility— which he would need to become a better run blocker.
Without OTAs or minicamps in Minnesota, he could put five or six days a week into Manyweather's program. He also became close with some of the best linemen in the NFL.
"He attached himself to Terron Armstead of the Saints, asked a bunch of questions," Manyweather said. "Cam Robinson, Cam Erving. Veteran guys that have played a lot of football. He really wants to pick their brains and see how they do things. He did the same thing at OLMasterminds with Lane Johnson. We saw it pay really, really, really large dividends."
For Rashod, working with Manyweather was a similarly enlightening experience to the one he had in college with Luke Meadows.
"When I got with [Manyweather], that changed my career as far as how to approach football, how to be a pro and how you handle yourself," Hill said. "Off the field, like acupuncture. I never got acupuncture in my life. It feels great. Be honest man, who would like needles put into you? When I got them in me, I was like, hey man, I see that works."
His progress hasn't been lost on the Vikings. Offensive line coach Rick Dennison expressed confidence that the team could go forward with Hill starting at left tackle because of the growth he'd seen.
"I think he just feels more comfortable in the terminology, making calls, understanding where his help is, what his body's position is supposed to be like in each one of those," Dennison said. "I think he really has developed a lot in understanding. He's more confident in what he's doing."
The teammate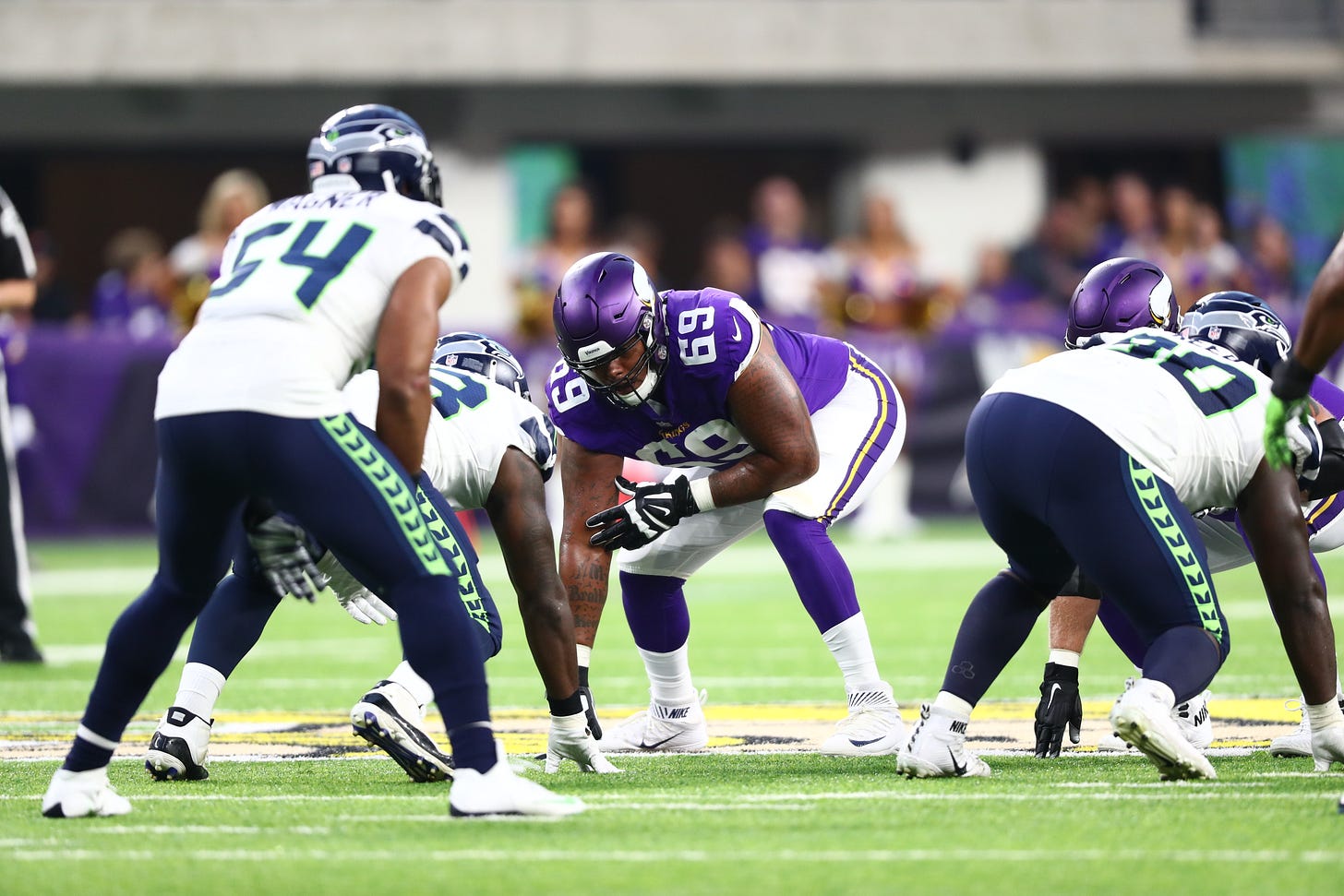 Photo courtesy of the Minnesota Vikings
This offseason several of the players working with Manyweather were top draft picks, including Mekhi Becton, first-round selection of the Jets. Duke loves telling the story of Rashod picking up the dinner tab for all the rookies who hadn't yet signed their contracts.
"Rashod said, 'Nope, I got it, I've been where these guys are before and I wish I had somebody like you that took me to dinner,'" Manyweather said. "I didn't expect that at all but it's just the type of guy he is. He's a really, really great human being. I'm excited to see whatever happens with him."
What's currently happening with him is that he's trying to help the Vikings in any way he can, whether that's by being the fire extinguisher or working closely with the guy who took his job, Brian O'Neill.  
"He's helped me a ton in my career. When I first got here and showed me the ropes," O'Neill said. "He and his wife have me over to the house every now and then. He's a great friend of mine. In terms of in the game I come off and he's kind of my eyes and ears. He tells me what he saw out there and what he thinks I can do better. He's just another guy who's played a lot of football and is able to bounce his ideas about certain pass rushers to me and we kind of bounce ideas off of each other. We speak the same language so whenever we're out there on the field we kind of see things and can talk them through really quickly."
Rashod is also helping the Vikings with their TV and movie choices. He's got the Vikings' O-line watching "The Boys," on Amazon Prime at the moment. The Jackie Chan and Jet Li movies he loves are more of a tough sell.
But connecting with teammates that way is just part of the philosophy that's helped Hill stick around and get his chance. He thinks it's pretty important to be nice and darn it if we don't need more of that in the world.
"My mom and dad always taught me to treat people the way you want to be treated," Hill said. "I always treat people with respect, from a homeless man to a multi-millionaire, they get treated the same. That's how I was raised. Off the field, I'll talk to anybody. I'll talk with practice squad guys, anybody that I'm around and that I'm going to be around for a minute, I want to get to know them. If we're a family, we're going to be around each other so I want to get to know you."
Things like that have mattered during the Mike Zimmer era. The Vikings' head coach likes to use the word "conscientious" to describe players who see the interpersonal element of the NFL as valuable. The Vikings have succeeded with character project players like Anthony Harris and Adam Thielen. It played into keeping Hill on an RFA deal.
The chance
So when is his opportunity going to come?
He could play any given week if there's an injury but it's hard to say otherwise. If the Vikings sputter into the bye week, they could look for trade partners for Riley Reiff. Or if they believe in Rashod more than second-round pick Ezra Cleveland, he could get his chance next year. Or another team might come looking for Hill after what they've seen in small samples.
"There's always room for improvement but I do feel like I am [ready]," Hill said. "If they gave me the job that's great but I'm all about the team. When my time presents itself, yeah man, of course, who doesn't want that?"
Until then, when you see O'Neill come off the field, remember Hill is over on the sideline giving him feedback. When you see Hill in there for a single snap, remember that his odds of being here were close to zero and keep in mind how much he's put into being this close to fully realizing his dream.
---
Check out our sponsor SotaStick and their Minnesota-inspired gear by clicking the logo. Use the code PurpleInsider for free shipping