Reacting to the Yannick Ngakoue trade, takeaways from GM Rick Spielman's media session
What a Thursday, folks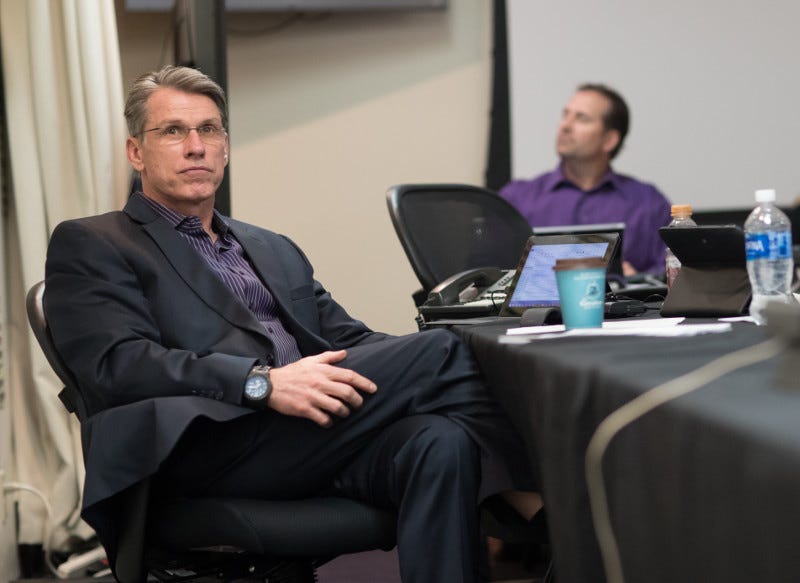 Sign up for Purple Insider for $5.60 per month or $56 per year to get credentialed access inside the Vikings, from in-depth analysis to behind-the-scenes features to the ever-popular Friday Mailbag. Photo courtesy of the Minnesota Vikings
---
If you thought the bye week would be boring in Vikings land, you were sorely mistaken. Not only did the Vikings trade Yannick Ngakoue to the Baltimore Ravens but GM Rick Spielman spoke with the Twin Cities media for 30 minutes and NFL Network reporter that Danielle Hunter will have season-ending surgery. Let's break it all down…
Ngakoue to Baltimore
The team announced Thursday that just weeks after acquiring the former Jacksonville Jaguars pass rusher, they have moved him to the Baltimore Ravens for a 2021 third-round pick and conditional 2022 fifth-round pick, according to ESPN's Adam Schefter. They initially sent a 2021 second-rounder and 2022 conditional fifth-round pick to the Jaguars.
Spielman basically said that the move didn't work out how they expected because they had planned to pair Ngakoue with Danielle Hunter.
"To have a Yannick and Danielle coming off the edges…that's how we envisioned it," Spielman said. "Unfortunately it doesn't work out like that."
But there's a wrinkle to that line of logic that doesn't quite fit: The Vikings could have franchise tagged or re-signed Ngakoue next offseason and had their Ngakoue-Hunter pair if they wanted it.
Another element of the deal may be that they decided after watching Ngakoue for six games that he would not be worth a franchise tag or lucrative long-term contract and they elected to bail out while they could still get decent value.
PFF ranks Ngakoue as the 14th best pass rusher among regular edge rushers but he's 66th out of 71 when it comes to stopping the run. While sacks and pressures are overall more valuable than run stopping, his play against the run was a liability that would not allow the Vikings to play him every down. Head coach Mike Zimmer has also had a strong philosophy about stopping first and second down runs and how that impacts third down performance.
Ngakoue wasn't a fit and that roll of the dice will cost the Vikings about 50 places in the NFL draft because of it.
The bigger question on the Ngakoue deal is: Should they have seen this coming? Ngakoue was not a strong run stopper in Jacksonville and was a stand-up rusher there as opposed to the hand-in-the-dirt style the Vikings prefer. And on a larger scale, should they have made a knee-jerk move when the potential existed for the Vikings' defense to struggle with rookie corners?
Spielman put a good amount of the cornerbacks' problems on the lack of pass rush.
"Losing Barr, who I feel and I think we all feel is one of the best blitzing linebackers in the NFL who creates a lot of pressure on the quarterback along with losing Danielle, those are two critical parts to it that help the back end as far as coverage," Spielman said.
While that may be true, rookie cornerbacks' struggles in past years — even with a full offseason — have been well documented. To add onto that: Hunter was also not practicing at the time they made the Ngakoue move and the Vikings' defense still struggled mightily the first week when Barr was in the lineup.
What shines through is that the Vikings believed they could patch holes, coach 'em up and be much more competitive that they have been.
But in the case of Ngakoue, it was a far better move to cut losses and acquire a draft pick back than to double down and franchise tag or extend him in the offseason. Losing draft position is less harmful long term than a big, bad contract.
Spielman mentioned the "short and long term" benefits of moving Ngakoue. Translation: They want to see younger players at defensive end like fourth-round pick DJ Wonnum. Last week was easily Wonnum's best graded game by PFF. He played 33 snaps and made several key plays against the run and had one QB pressure. We can expect to see a lot more of him now.
And that's for the best. At 1-5 the Vikings' playoff odds are at about 5%. While Spielman answered a flat "no" when he was asked about whether veterans have requested trades, it would be smart to make the Ngakoue deal the first of several to recoup draft capital and give young players their chance to play and develop the rest of the way.
On the matter of Kirk Cousins…
If the Vikings draft a quarterback in the first round or trade Kirk Cousins, here's the quote that we'll remember:
"I don't think anyone has lost faith in Kirk Cousins," Spielman said.
The Vikings' GM said that they extended Cousins because it created cap space to make other signings like Michael Pierce and he added that Cousins's 2019 season was a career year under the current system.
"I know what I've seen since we've been here and his ability to throw the deep ball down the field and his ability to run play-action and do all those things is [why] we felt [extending him] was the best decision as we moved into last offseason," Spielman said.
Cousins leads the NFL in interceptions, three of which came last week in the first half against the Atlanta Falcons.
"Some of the interceptions were not his fault, some of them were poor decisions but I don't have any doubt that he's going to be able to rally," Spielman said.
The question here is: Would continued struggles or a "rally" from Cousins at the end of the season change how the Vikings' front office sees their quarterback situation? Are they locked into Cousins as their franchise QB regardless of how he plays down the stretch? Or have they already decided on drafting a QB next year?
Ezra Cleveland, a guard?
Spielman would not answer whether the team saw second-round pick Ezra Cleveland as a guard or tackle when they drafted him. He started camp at guard and played right guard in his debut last week but offensive coordinator Gary Kubiak said that he had been practicing some at tackle.
"To practice that and put him in at guard… coaches are always trying to figure out what our best five options are, what's our best five we can put up front there," Spielman said, adding that he saw a lot of positives out of Cleveland's first start (including his ability to recover, which was pointed out by Purple Insider's subscribers-only film session on Wednesday, just sayin').
Whether Cleveland would play tackle if the Vikings move Riley Reiff is unclear. Whether they have any plans for him to ever play tackle is unclear. Whether the front office is happy with the coaches' decision to play him at guard — again, unclear.
Danielle Hunter
NFL Network's Ian Rapoport reported that Danielle Hunter is having season-ending surgery. But there is quite the twist at the end of RapSheet's report:
While Hunter is under contract through 2023, his representation is well aware that he has one of the most team-friendly contracts in the NFL and Rapoport is more or less laying out Hunter's future demands.
The Vikings did re-work a long-term contract that was unfair in the recent past when they signed Adam Thielen to an extension. But the top edge rushers get paid in the same ballpark as quarterbacks. Could the Vikings afford to do that next year, even with some deals coming off the books?
The CBA has made it harder for players looking for their second contract to hold out but veterans like Hunter can still effectively use their leverage. He has enough money to easily pay the fines he will incur for sitting out.
Despite his injury, Hunter would still have plenty of leverage. He will remain in his prime for another five to seven years and has been one of the truly elite players at the position.
If the Vikings did want to trade him, the value of such a deal could be extremely high. Maybe in the ballpark of what Khalil Mack fetched from the Chicago Bears (two first-round picks and change).
More trades a'comin?
Will the likes of Riley Reiff, Anthony Harris or Kyle Rudolph join Yannick Ngakoue in being moved before the trade deadline?
Naturally Spielman wouldn't commit to trading players but there was a read-between-the-lines comment pertaining to a new commitment to rebuilding
"From the short-term standpoint, I'm excited to see where this team continues to grow and to see these young guys we're playing," he said.
There is value in Irv Smith Jr. playing the No. 1 tight end spot or the Vikings giving Josh Metellus a chance at safety or playing Ezra Cleveland at left tackle. There is value in getting more draft picks in order to make up for the pick lost with Ngakoue.
What this pivot means for the future of the head coach and GM, we'll see.
---
Check out our sponsor SotaStick and their Minnesota-inspired gear by clicking the logo. Use the code PurpleInsider for free shipping