Vikings mysteries: Do Vikings opponents really make all of their field goals?
Ask any Vikings fan and they will tell you: Opposing teams never miss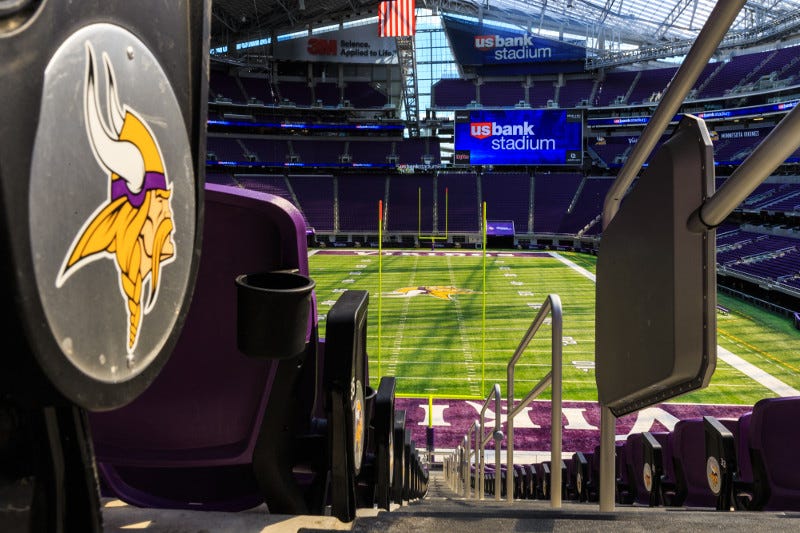 Photo courtesy Minnesota Vikings
---
In 2017 the Minnesota Vikings were ahead by 11 points late in a road matchup in Washington when kicker Nick Rose trotted on the field to attempt a 56-yard field goal to cut the lead to eight points.
St. Thomas professor Eric Rawdon, a Vikings season ticket holder with seats near the goal posts, was watching the game with his mother. When Rose, who had kicked in a total of three career games before the early-November contest, lined up the long-shot attempt, Rawdon's mom said: "He'll make it. Nobody ever misses against the Vikings."
Seconds later, boom, Rose nailed it to keep Washington in the game with under two minutes left.
Since 2000, kicks from between 55 and 60 yards away only make their way through the goal posts 47% of the time (per Pro-Football Reference). The boot against the Vikings was Rose's one and only make in his career from 50-plus and he did not kick again in the NFL after 2017.
Only the Vikings, right?
Actually yes.
As you might expect from someone with a Ph. D, Rawdon decided to find out if his mother was onto something. So he studied all of the field goals kicked in the NFL from 2000-2016 and found that the league made 82% of total kicks. Against the Vikings, opponents made 85.1% of field goals, the third highest mark during that time period. It should come as no surprise that the Patriots had the lowest field goal percentage against during the same stretch (76%).
Opponents almost never miss easy field goals against the Vikings. Opposing teams went 94.1% from 30-39 yards, No. 1 in the NFL.
Since his study from 2017-present, that number has gone up to 88.8% with opponents overall making 95 of 107 attempts (including going 4-for-5 from 50-plus) and 31-of-32 (96.9%) from 30-39. League average over the last three seasons is 83.5% and 90.5% on 30-39.
One factor that might immediately come to mind is the dome advantage. Yes, there is something to that. Vikings' opponents are 10th in field goal percentage when the game isn't held at the Metrodome/TCF Bank/US Bank Stadium. Still mysteriously above average though.
The division has played into their bad luck with field goals. Since 2004: Green Bay's Mason Crosby is 47-for-52 against the Vikings, long-time Detroit kicker Jason Hanson is 39-for-46 and Chicago's Robbie Gould nailed 37-of-45. Detroit's Matt Prater is 27-for-32, former Packer/Viking Ryan Longwell was 21-for-26 versus Minnesota and even current Chicago placekicker Eddie Pineiro is 7-for-7.
But there are enough wildly impressive kicks to be spooky. A few examples over the last 10 years:
2019 — Kansas City's Harrison Butker hits from 54 to beat the Vikings in walk-off fashion

2018 — Disaster Bears kicker Cody Parkey goes 3-for-3 in a 25-20 Vikings loss

2016 — Dustin Hopkins goes 4-for-4, including from 50, in 26-20 win just one week after Matt Prater hits from 58 to tie and Lions go on to win in OT. Vikings miss the playoffs by two games.

2012 — Adam Vinatieri makes from 53 with 0:08 remaining to beat Vikings 23-20

2011 — Mason Crosby goes 4-for-4 including 58-yard field goal in 6-point Green Bay win

2011 — Ryan Succup goes 5-for-5 including two from 50-plus in 5-point KC win

2011 — Jason Hanson 52-yard game winner in OT

2010 — Nick Folk goes 5-for-5 including from 53 in 9-point Jets win
Also this happened:
Now not everything has gone against the Vikings. In their playoff win over the Saints, reliable kicker Wil Lutz missed a 49-yard yard kick after a return that put the Saints in field goal position at the end of the half. Ultimately it played a big role in the Vikings' win.
Of course Rawdon and his mom would tell you that outcomes which favor the Vikings, statistically speaking, are few and far between.
---
Check out our sponsor SotaStick and their Minnesota-inspired gear by clicking the logo. Use the code PurpleInsider for free shipping.